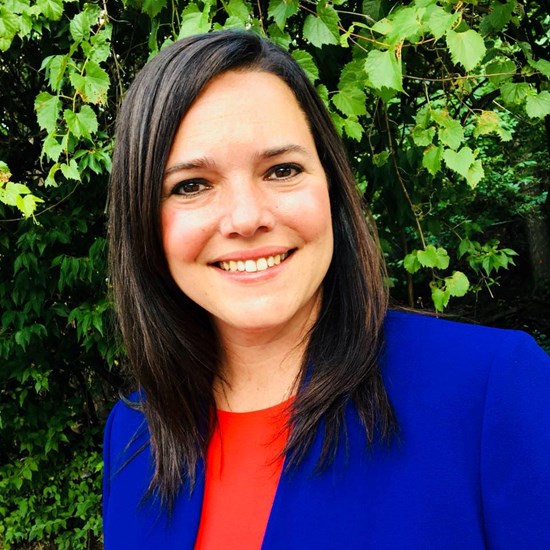 Welcome Fellow Prairie Village Residents,
I'm Serena Schermoly, 46 —Ward 2 Councilmember and proud candidate to be your next Mayor. Prairie Village is my home, and it is home to some of the greatest people, places, businesses, events, and traditions I've ever known. I'm sure you agree.
Getting involved and becoming active in many facets of our community has been a highlight of my life. The energy and ideas I've been exposed to while working and leading our city's premiere arts events inspired me to get more involved in public service. The engaged discussions and passionate deliberations I've experienced and participated in since joining City Council in 2016 — with residents, other councilmembers, city staff and other stakeholders — ignited my desire to lead and facilitate the work ahead of us.
Prairie Village is bursting with undeniable potential. It's going to take careful listening, creative thinking, and the acknowledgement of our shared values and our hopes for the future to ensure that our city maintains its special "Prairie Village-ness" while embracing the new voices joining our neighborhoods.
I love Prairie Village, but, we face the same development issues and demographic trends impacting communities like ours all over the country. There are many opportunities and important choices before us, specifically development and how we manage the growing demands for density. We need a forward-thinking mayor to navigate our Village through this exciting time in its history.
The challenges we face seem deceptively complex (codes, acronyms, confusing funding incentives and tax formulas, blah-blah-blah…), but I think we all want the same things:
• A safe place to raise our families
• Vibrant places and amenities, such as parks and retail centers
• Access to quality education
• Reliable and durable infrastructure
• Low taxes
• Neighborhoods with character
• Responsible corporate citizens/pro-business zones
I've got the bandwidth and drive to work tirelessly preserving and improving on these core pillars of our community. During the next few months, I look forward to hearing from you and engaging in productive dialogue about your hopes for Prairie Village.
I will post complete position statements and ideas for how I plan to address our city's most pressing issues up on this website. Check back or sign up for my email list, or follow us on our social media platforms to stay up-to-date on our work. As I've made clear during my time on city council, transparency is the key to a strong, citizen-focused government. I want to collaborate and serve you.
Call me night or day, What's important is What Matters to You.
Serena Schermoly
Your candidate for Prairie Village Mayor
Councilmember Ward II, Candidate for Mayor
Cell: 913-777-9597
serenaschermoly@gmail.com
www.serenaschermoly.org
Facebook – Serena Schermoly or Serena Schermoly for Mayor
News
Tuesday, September 11, 2018 11:57 AM
I am proud to announce that Andrew Wang is endorsing our campaign. To have the support of Andrew, the senior member of City Council demonstrates that our campaign is working for the residents of Prairie Village. I appreciate the support of Andrew a man with integrity, loyalty and who has worked so long and so hard for his residents. Andrew understands the issues facing our city and has devoted his time and energy to making the best choices for Prairie Village. I am honored to accept his support and for as Mayor I will bring the same concern for our residents to every issue we face.
---
Thursday, July 26, 2018 10:07 AM
5/16/2017 10:49 AM - Jay Senter
Shortly after being elected to the Prairie Village governing body last spring, Ward 2's Serena Schermoly took it upon herself to organize the recording and live-streaming of city council meeting on her Facebook page.
Since last fall, as she's enlisted family and friends help her record and transmit the proceeds from every council meeting, she's lobbied for the city to take on the responsibility for making video of the meetings available to the public. After a vote last night, it appears Schermoly will have to wait at least a bit longer to hand over the duty to city staff.
---
Thursday, July 19, 2018 8:24 AM
Before a standing-room-only crowd at Colonial Church Wednesday, the three candidates running to succeed Laura Wassmer as Prairie Village mayor shared their views on pressing issues including the teardown-rebuild trend, sharply rising home values, and the use of public financing incentives for redevelopment at the Shawnee Mission Post's candidate forum.
You can see full video of the event here.
Candidate Serena Schermoly joined Prairie Village in April 2016 as a Ward 2 councilmember.
---
Sunday, July 8, 2018 12:00 PM
The City of Prairie Village is in the process of considering updates to our zoning regulations, particularly as it relates to the design of single-family residential properties. A committee of local design professionals and city staff have been working together for several months to draft new regulations that would govern the design of single-family residential homes. This effort began at the direction of the City Council with the goal of protecting neighborhood character while balancing the changing demographics and needs of the Prairie Village community.

The proposed changes to the zoning regulations can be found at the link below. The changes include added requirements for greenspace, street trees, and the size of buildings and garages. These proposed changes are in addition to the changes that were adopted by the City Council in 2016, which decreased maximum building heights and increased side setback requirements.

The City will be holding open houses on July 9, July 11, July 17 to provide additional information and gather feedback from our residents. These open houses will be held from 5:30 p.m. to 7:00 p.m. in the Council Chambers at Prairie Village City Hall, located at 7700 Mission Road. Residents may come and go as needed.

Can't make it to any of the open houses?

We still want your input! Please take a minute to complete our survey regarding the proposed changes at www.surveymonkey.com/r/PVneighborhoods.

The City values the opinions of our residents, and public input is certainly encouraged to help shape the future of our City. If you have any questions about the proposed guidelines or the public open houses, please contact Jamie Robichaud, Assistant City Administrator, at jrobichaud@pvkansas.comor (913) 385-4601.

View the proposed guidelines (PDF)
Take our survey
---
Wednesday, June 13, 2018 11:30 AM
Some residents say big, new homes on small, old lots are changing the nature of the Kansas suburb.
Home teardowns are not a new problem in Prairie Village, but the issue is receiving a lot of new attention. Today, we asked city leadership how they would strike a balance between property owners' ability to build what they want on their own land, and preserving the look and feel of what's long been known as a modest, affordable community.
Prairie Village Mayor Laura Wassmer
Councilwoman Serena Schermoly, District 2
Councilman Tucker Poling, District 3