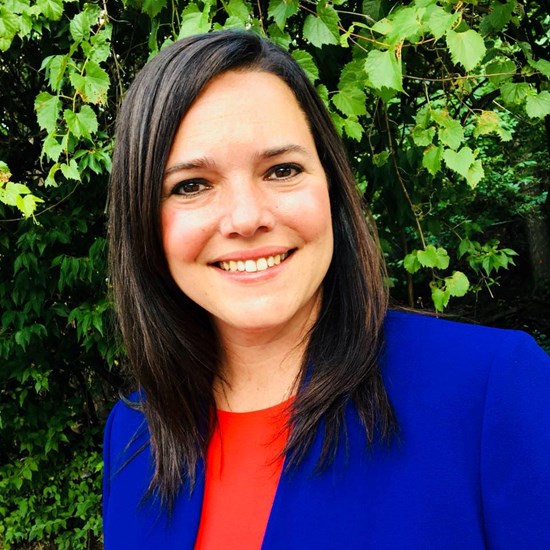 To Whom It May Concern,
I want to talk about the character and unwavering friendship of Serena Schermoly. There is a lot to tell and there's no way to express the love she's shown me over the years. I'm not only her ex-husband and the father of her two youngest children, but I'm also a very grateful recovering drug addict. Grateful to the Lord for giving me the strength to choose a different way every day for the last 5 years and grateful to Him for putting Serena in my life. If she wasn't in my life, there's no doubt in my mind I'd be dead.
Drugs led me down a very dark and destructive path. They took me to depths I never thought possible. They turned a good, law abiding family man into someone I wasn't proud of at all and hardly recognized. I alienated the people that cared about me the most, including my children, and at the end there was nothing left but the grave. Through my own actions I was arrested several times and was sentenced to 16 months in prison. Serena never left me through all this and was always there for me no matter what. It would've been the easy thing for her to turn her back, take our children and walk away. She believed in me when I didn't believe in myself and she knew the value of our children having a present and sober father. She even made it possible for me to talk to my children twice a week during this time. She kept me connected to my children and that gave me hope in a seemingly hopeless situation. It doesn't stop there.
Upon my release from prison when no one else would help she opened her home to me, provided me a car, worked with the state to facilitate my parole and helped me to get a job in my field. I've worked every day since, and have excelled in my profession thanks to Serena. Later she facilitated a parole transfer for me to join the family here in Kansas, and to make a fresh start and be an involved and visible father to our children. You see, I would've been just another parolee in a halfway house somewhere, hopeless and missing my children. There's no telling where my life might've gone. Even at my lowest she was there. Without her love and support I can't say exactly where I'd be.
Sometimes in life all someone needs is that one person to not walk away, not wash their hands, not give up. They need someone to stand in the gap, make the difference and not write you off as a lost cause. Serena has done that for me against her family's and friend's advice and her own husband's wishes. Not because she had to but because she knew it was the right thing to do and the best thing for our children. She has set an example of the way we're supposed to love each other.
I know some terrible things are being said right now as she runs for public office, and I wanted people to know where her heart is. It's with her family, friends and anyone else that needs help and encouragement.
There's more to people than what meets the eye. I wrote this letter in hopes that it would help people see Serena for the loving, caring and compassionate person she is or in hopes that it inspires someone to stand in the gap for someone suffering from addiction and to be the person that makes the difference like Serena did for me.
Thank you, Serena.
Adam Howard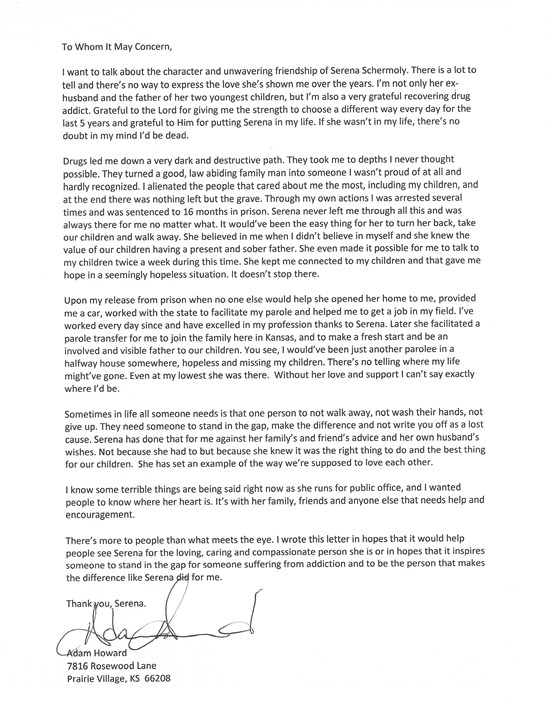 Welcome Fellow Prairie Village Residents,
I'm Serena Schermoly, 47 —Ward 2 Council Member and candidate to be your next Mayor.
Prairie Village is my home, and it is home to some of the greatest people, places, businesses, events, and traditions I've ever known. I'm sure you agree.
Resident of Prairie Village, daughter, wife, mother of three daughters, 12, 14 and 26, grandmother of two grandsons, business owner, Safety Director for Trucking Companies. Committed to Safety and Public Service and Making a Difference.
Currently serving as Chairman of the Prairie Village Arts Council, Arts Council Representative, Prairie Village Foundation, Transportation & Infrastructure Services Federal Advocacy, Women in Municipal Government - Board Member, Previously served as Prairie Village Planning Commission Council Liaison, Chairman of the Prairie Village Teen Council, Graduate of the Northeast Johnson County Chamber Leadership program, Vice Chairman of the Statuary/Island Committee, Vice Chairman of the Prairie Village Arts Council, Marketing Director for the Prairie Village Jazz Fest, Chairman of the Safety Council, Kansas Motor Carriers Association.
Getting involved and becoming active in many facets of our community has been a highlight of my life. The energy and ideas I've been exposed to while working and leading our city's premiere arts events inspired me to get more involved in public service. The engaged discussions and passionate deliberations I've experienced and participated in since joining City Council in 2016 — with residents, other council members, city staff and other stakeholders — ignited my desire to lead and facilitate the work ahead of us.
This is not about what I can do. This is what WE can do together.
Call me night or day, What's important is What Matters to You.
Serena Schermoly
Your candidate for Prairie Village Mayor
Councilmember Ward II, Candidate for Mayor
Cell: 913-777-9597
serenaschermoly@gmail.com
www.serenaschermoly.org
Facebook – Serena Schermoly or Serena Schermoly for Mayor
Prairie Village Volunteer Corp
https://youtu.be/vExfAIobcgc

Prairie Village Council Support
https://youtu.be/24rNO4Ew078

My Opponent Quit on you
https://youtu.be/vPifVCZmqWo

My Opponent Quit on you.... Vote Serena Schermoly for Mayor November 6th
https://www.facebook.com/SerenaSchermolyforMayor/videos/995855507282879/

Taxes and the FACTS
https://youtu.be/b7FRBHtDES8

Phase 2 Building Guidelines - Prairie Village, Vote - Serena Schermoly
https://www.facebook.com/SerenaSchermolyforMayor/videos/274448763174462/

Who is in the Pocket of the Builders?
https://youtu.be/NalcUB3GXFQ